Webinar
Webinar | The Power Of Proof Of Reserve In Tokenized Real-World Assets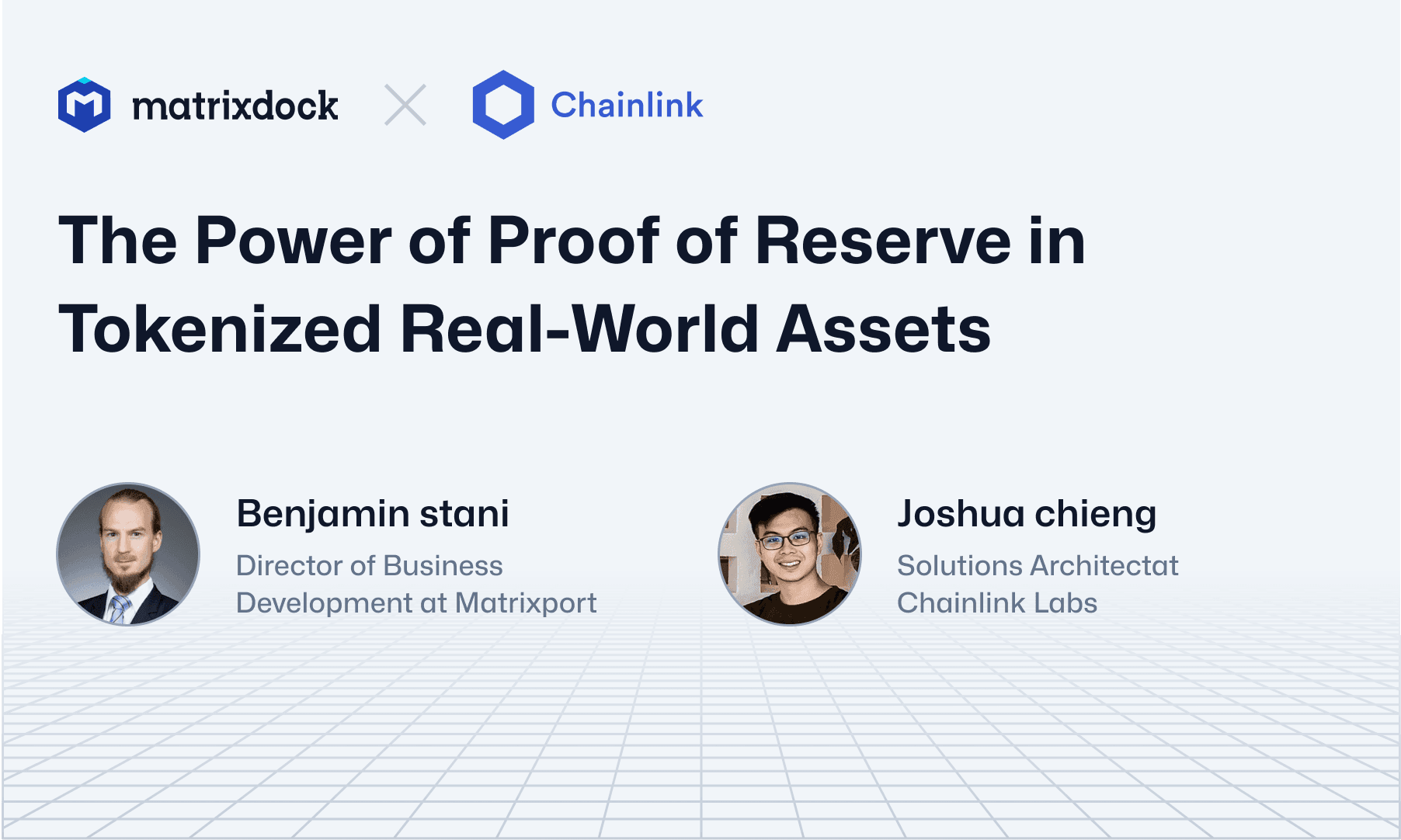 In the digital assets industry, transparency is essential for trust, especially when compared to the often opaque traditional financial system. Tokenized real-world assets have the potential to enhance transparency by validating off-chain assets with their on-chain counterparts. The Proof of Reserve (PoR) solution — driving technological innovation in the realm of real-world asset tokenization — plays a crucial role by elevating transparency and accountability. PoR enables stakeholders to easily verify the backing of digital assets, reinforcing trust in a reimagined financial landscape. It sets new standards for integrity and openness in the digital assets industry, transforming how we perceive and rely on financial systems.
Matrixdock has seamlessly integrated Chainlink Proof of Reserve (PoR) to enable users to access Matrixdock's Short-term Treasury Bill Token (STBT) PoR feed that automatically updates based on data provided by Matrixdock's auditor, which has access to Matrixdock's daily bank statements. This integration enables users to validate the holdings backing Short-term Treasury Bill (STBT) tokens.
With Chainlink PoR, we're setting new standards for transparency, reliability, and user confidence.
Join us on this exciting journey as we unravel the importance of Proof of Reserve in the realm of tokenized real-world assets. Get ready to explore the opportunities, benefits, technological advancements, and future implications of this game-changing integration.
Watch the webinar now to learn more!
Speakers:
Benjamin Stani, Director of Business Development at Matrixport
Joshua Chieng, Solutions Architect at Chainlink Labs
Content:
Landscape of RWA tokenization: Understanding the current state and exploring the advantages of tokenized real-world assets (RWAs)
Key features of Matrixdock's Short-term Treasury Bill Token (STBT)
Critical role of Proof of Reserve (PoR): Exploring why Proof of Reserve is vital in the tokenization of RWAs through the Matrixdock-Chainlink integration
Use cases of tokenized real-world assets
Paving the path forward: Envisioning the future of tokenized real-world assets (RWAs) and the evolving ecosystem
About Webinar Organisers:
Matrixdock, a digital assets platform that provides access to real-world assets through tokenization. It is a brand wholly-owned by Matrixport, one of the world's largest and most trusted digital assets financial services ecosystem. For more information, please visit www.matrixdock.com. For STBT purchase restrictions, visit this link.
Chainlink is the industry-standard Web3 services platform that has enabled trillions of dollars in transaction volume across DeFi, on-chain finance, gaming, NFTs, and other major industries. As the leading decentralized oracle network, Chainlink enables developers to build feature-rich Web3 applications with seamless access to real-world data and off-chain computation across any blockchain and provides global enterprises with a universal gateway to all blockchains.
Learn more about Chainlink by visiting chain.link or reading the developer documentation at docs.chain.link. To discuss an integration, reach out to an expert.